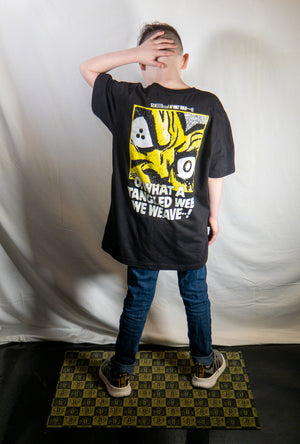 2021 Capsule Wave 01: Web T-Shirt —

Sale price

Price

$25.00

Regular price

Unit price

per
100% Cotton T-Shirt in Black. Hand-screened in HB Volt + White. Wave 01 of the 2021 Capsule Collection
What a difference a year makes.

I was confronted--upon creating these product descriptions--with the fact that it's been a year since I released the Unofficial Ghost Shelter Kit, my first foray into self-screening my self-styled wares. It both feels like it was a year ago and it doesn't: by some accounts it was yesterday, and by others, it's been decades.

Despite the global emotional baggage that realization brings with it, I'm feeling proud--good!--to still be endeavoring towards the same notion that triggered me into action all those long 12 months ago.

As many of you know, I've perpetrated against you an annual 'capsule' of t-shirt designs that have typically consisted of 6-8 designs sprung all at once. Those garments have been expertly printed for me by a good, local friend and it's been a blast.

Still, I've wanted to find ways to work faster; work sillier; and ultimately work at a different pace, and it only took a single conversation between my printer friend and I to find the solution: I'd do it myself.

And so, this initial wave of items represents what will hopefully be a year of designs that are a bit more spread out and constant. My hope is that spreading out of things should help me gauge interest in my work better, as well as give me room to, well, 'play' with different themes.

This first design touches on many of the themes I've worked with for years: The Green Goblin--ostensibly Spider-Man's Joker-figure--in all his Kirby glory is giving you an up close and personal reminder that, ultimately, our own worst enemy is ourselves. I could go on and on about the significance of this character (these characters?) but I won't, because I'm tired.

The flipside--which also makes an appearance on some dope chillshorts and an insanely radical hoodie blank--is there for those of you who might not want to bring the Goblin back to work with you whenever it is you plan on going back to work.

I want you to love this. Mostly because I want to feel good about continuing this project. Let's see how it all goes.

Note: This is a preorder item. Orders will be open from March 9, 2021 through March 23, 2021 at 11:59pm. Feel free to tell a friend.

Note Note: As ever, orders will come with free pins, stickers, and anything else I can justify throwing in to butter you up.
Note Note Note: Model (lol) is wearing an adult size small.

Thanks for the attention. Really looking forward to seeing how this goes...it said with an exhausted and, ahem, proud look on its face.

XO— HB