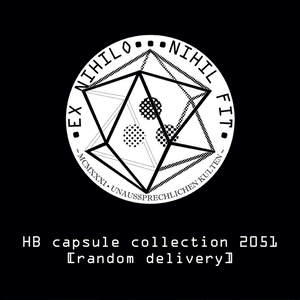 HB 2051 Capsule —

Sale price

Price

$15.00

Regular price

Unit price

per
One of four unique, 100% cotton, discharged-printed styles delivered at random for the specified size.
I've got a theory that most dudes from my generation—X—at one point in their life sat around and dreamt about making T-shirts. And that this long-forgotten dream is not forgotten at all...that we're all sort of just going through life, looking for even the dumbest reason ever to sit down and try to make something that would be fun to wear...damn the costs.

I have become addicted to making t-shirts for myself...so much so that—with the exception of a few key brands upon whom I force my loyalty—'regular clothes' are a bit spoiled for me now. I feel a bit phony wearing a shirt that I didn't at least help design. It's weird and troublesome.

This time I tried to cook up some scheme that would leave me with less unsold overstock at the end of the news-cycle, AND would still allow me to conduct myself without doing a preorder...something that I'm not really fond of. So here you go: strange and mysterious purchasing mechanisms for fashionable apparel.

The idea behind these shirts is that they're new designs made up of elements and/or reference that I've been using for a while. Some of the styles showcase elements that have been used in patches or other zines...and in fact, I created a zine as sort of a companion piece to these shirts...sort of a literal scrapbook for the process of arriving here.

There are four styles and they are carefully and expensively printed on soft, premium blanks (Tultex 0202) and feature front pocket and large back discharge prints...which essentially means that by the second wash, you can't feel the print at all...and yet it's there, bright, and confusing.

Some notes on each style:


Spider — I love this one and believe it to reinforce the notion that whenever you use a shape that's got something other than four corners or points, it looks spooky.
Ghost — Both the front and back of this shirt pull layouts that were used in my first run of patches...still, to me it feels fresh, new, and boss as fuck.
Ennui — It's funny how well Pappycat and Mr. Baynes go together here...the front print is a discarded 'Orbits' doodle that was going to be an Arcane Sigil patch in another life.
Conspire — It's weird to say that this design is 'straightforward', though it is the most easy to parse of the group. Front print uses elements from The Sign of Zeroth, and a featured appearance of Leliel, The Twelfth Angel.
I hate to say it, but I really hope you like these. I really like them.