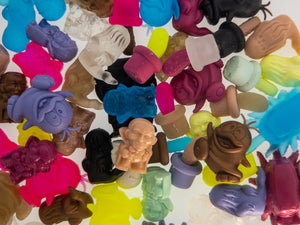 Bootleg Bag II —

Sale price

Price

$25.00

Regular price

Unit price

per
Hand-cast resin bootleg in assorted colors and varieties.Back for round two...with whatever confidence I gained from the first release being entirely spent on this.

I'm really enjoying my molding/casting journey, and I'm slowly but surely finding ways to creep my boldness and ambition up. Which means this upskilling thing is working.

This is another release that I've had completed and prepped for several months--since before the holidays and my move--which has afforded me some distance, which in turn allowed me to come take stock of my work with fresh eyes.

Not bad!

The thing that I feel I most bring to this media is just my eye...I've convinced myself that there's an art to selecting the right thing to boot, and by that logic, I'm doing great, because these toys are great.

If I remember correctly, the big bag has 6 pcs in it and the small one has 4. There's a pretty great spread of characters, too:


Q-Taro

Bikurriman Guy

Ringu Ghost Worm

Treasure Box Cactus

Catbus

Shocker Leader

Hope you enjoy them as much as I do.

**ALSO: if you purchased the first bag and unboxed or posted on your IG, holler at me for your promo code. Thank you, lovies.