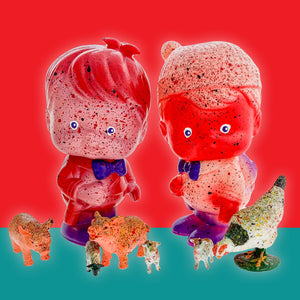 Grody Shogun Collab: Cain & Abel —

Sale price

Price

$45.00

Regular price

Unit price

per
Twin vinyl toys pulled in pink-flesh and red; sprayed and splattered w/ red, flesh, purple, and black. Includes 20-page handmade zine.When Luke approached me with this idea for a collaboration, I have to admit that I said yes before I really understood what that meant.
He was correct though: he *had* found a wonderful mash-up between my Shonen Shadow body and a couple of his beautiful boys, and it was a blast hanging out with them while I found out what they were.
And here, of course, you can see that they are in fact Cain and Abel.
You get both boys (in the colors shown here; one is red vinyl and one is pinkish-flesh), some farm animals and some sheep, and also a lil zine that I put together for ya.
I think the Shogun and I would love to collaborate more often and in greater numbers in the future; your support here or elsewhere is a big vote in that direction.