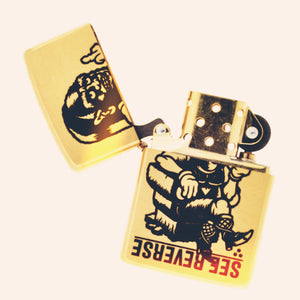 Chaotic [@Sexualyoukai] —

Sale price

Price

$40.00

Regular price

Unit price

per
Custom brass Zippo™ Lighter, and 3/4" enamel pin.
(Lighter is etched on both sides.)
NOTE: This item is a preorder and will be availabile for purchase through 7/13/18. Manufacture and finishing will commence after that date, with projected delivery estimated for mid-August. -HB

I'm not a smoker but there have been some pretty key figures in my life who smoke and so I have this fascination with lighters. As has been the case with other lighters I've done, when I'm coming up with each specific design, I try to imagine two things: one, being electrified and/or somehow affected by knowing you have this very weird and singular totem in your pocket. it's in there, rubbing around, getting old, wearing and tearing, and you are forced to remember that every time you sit down. And two: what must it be like to be out somewhere and someone asks you for a light and you give them one and they see this lighter...what must that conversation be now?

---

If you are at all interested in anything on this website, and you've ever taken any kind of quiz or personality test, you should make sure you've taken and are well-versed with the original Dungeons and Dragons Alignment Test. Similar to Meyers-Briggs (but slightly more badass), the idea is that you fall into a few different categories that can be used to predict your behavior in certain situations. I am Chaotic Neutral, which I obviously think is the best alignment to have. Pair that with a dashingly classic and IDGAF de facto portrait of yours truly (or just as easily you truly when you're talking to a very confused girl or boi holding this lighter) by the insanely talented Matt Fisher, and, well, it's showtime.