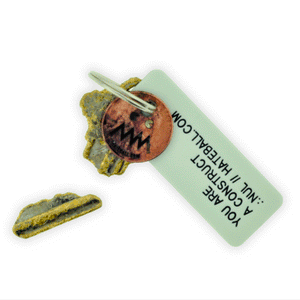 Construct —

Sale price

Price

$12.00

Regular price

Unit price

per
2" GID keychain w/ custom engraved penny.
I was making keychains for a large project that I thought would be cooler if it included a keychain, and in the process, I decided to have fun with some Guiding Lights in, well, keychain form.

And then, once I had the keychains in-hand, I decided that they'd be cooler if I customized some pennies to go along with them, and (surprise-surprise) I was right.

A quirkly little autobigraphical note on the pennies: I tried my hand at making coins to go along with the Dead Presidents Zinewolf and was mostly happy with the designs, but not happy at all with the "feel" of the material I etched them onto...so this time, I just decided to commit a felony and customize real money. The pennies themselves were pulled out of the cupholder in my car: I used to frequent the McDonald's drivethru for an ice cream cone which, after tax, costs $0.97. It's not like me to have/use cash at all, but for some reason, i did (a lot) in this setting and so my car slowly filled up with coins, three pennies at a time.

These are those pennies.