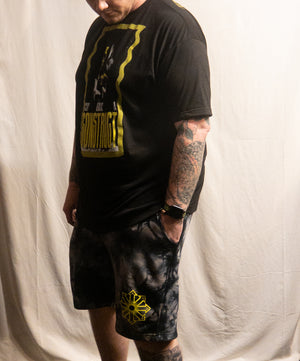 2021 Capsule Wave 02: Construct Chillshorts —

Sale price

Price

$22.00

Regular price

Unit price

per
100% Cotton Shorts in Tie-Dye. Hand-screened in HB Volt. Wave 02; 2021 Capsule Collection
The journey continues.
I'm starting to enjoy this printing method more. It's...difficult and tedious and there are plenty of head-scratching steps involved but hey: I'm learning.
And isn't that just a metaphor for life, anyway?
This release has a lot going on, and I'm really proud of it.
The first, biggest difference is that I'm pivoting into a front-print design. I typically just do crests and small things on fronts, but for this one, I really wanted it to feel like a band t-shirt...specifically a shirt that you'd buy at a festival or concert tour-date for a world-touring band.
The central graphic is an obvious pull from an inside-cover of the cd booklet that came with Megadeth's 1994 opus, Youthanasia. I added in some subtle tones to Vic Rattlesnake to both set him apart from the youth (you) and also callback to one of the villains from the Hideo Kojima game, Death Stranding.
The text, in addition to being warped and wavy to follow my own personal aesthetic exploration, is a reference to the lettering style used during Badmotorfinger-era Soundgarden.
For the back, I really wanted to complete that tour-date vibe, so I went heavy with a huge masthead accompanied by some warped text. The text is actually a sandwich of two J.P. Sartre quotes, followed by a refrain from Portishead's "Sour Times".
Finally, the Arcane Sigil of this piece is the chaos symbol. This is a pretty traditional glyph, but the main inspiration for it came from a Testament album called 'The Ritual'. I also have been encountering 'chaos' in a few different games I've been playing and this felt really natural to include.
My overall thinking is that Death (the skull) is chaotic neutral, we are just beings that are determined to be while we can, and then stop being once we stop being. 
I guess that thought kinda lost steam, but you get the idea.
I rounded out the capsule with more chillshorts: these are garment-dyed and tie-dyed to make for a pretty wild piece in your leisurewear ensemble...no doubt paired with our chaos sigil.

Note: This is a preorder item. Orders will be open from May 11, 2021 through May 24, 2021 at 11:59pm. Feel free to tell a friend.

Note Note: As ever, orders will come with free pins, stickers, and anything else I can justify throwing in to butter you up.
Note Note Note: Male Model is wearing size XL; Female model wears M.