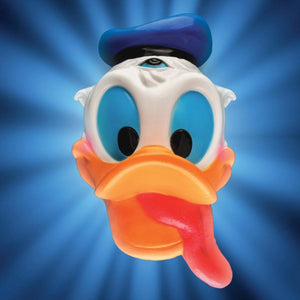 Duck Wolf [Tribute] —

Sale price

Price

$65.00

Regular price

Unit price

per
Kitbashed figure cast in mixed vinyl w/ classic paint;
Duck mask w/ magnetic assist; 6.5". Comes w/ 20 page zine, stickers, and 3/4" enamel pin.
This release is a purest arrival for me. There is no melancholy...no hyper-intellectualized analysis...just pure glee. Joy, even.

The hypothesis has always been that I want to create toys that would trigger my lust as a collector. This is clearly a blatant example of that: I collect Donald Duck toys. I like them better the weirder and more difficult to acquire/trace they are. I want them to be happy-feeling—I'm not the biggest fan of 'Angry Donald'—and I want them to ladder up into the larger gestalt of my collection. Be weird but fit in. Hide in plain sight.

This toy does that. It is a success. From the paint masks that make for beautiful, crisp lines, to the fantastic color-matching, to the rosy little cheeks that I BEGGED Luke to please just humor me and do, it's exactly what I wanted. Exactly.

I love this toy. I love that there is room to make it mine while still letting it be what it is. It makes me happy and that's strange, delicate, and rare.

Note, too: the zine was a ton of fun. Not only did I set out to create endcards that 'pass' for 'real', I had a blast spending time with some key pieces from my Donald collection.

I wish they could all feel this healthy.