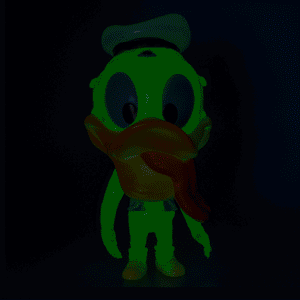 Duck Wolf
[Tribute Redux] —

Sale price

Price

$65.00

Regular price

Unit price

per
Kitbashed figure cast in GID vinyl w/ classic paint;
Duck mask w/ magnetic assist; 6.5". Comes w/ zine, patch, stickers, and 3/4" enamel pin.
Well hello there again. About a year later.

Last year's release of the original Tribute Duck Wolf was a huge success for me. A surprise success. Both emotionally and, well, commercially, if you want to be crass about it.

In fact, my surprise release of him on Christmas morning was met with an overwhelmingly fast sellout...so much so that I've spent all of 2017 wondering why I didn't make more of him in the first place.

This version is my best attempt at fixing that tension in an otherwise unblemished release: I wanted to create something that was very much in-keeping with the original that got everybody so excited, but also honored the fact that those that did grab the initial release would not have their fervor rewarded with a nerf.

And so here is essentially the same paintway (with a few minor tweaks) against a pure and wonderful glow-in-the-dark vinyl base.

Thank you for all your support this year. XO.