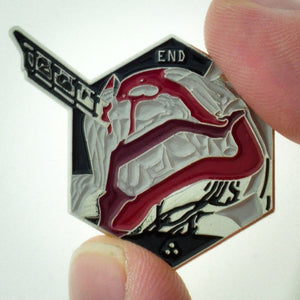 End Bird [White] —

Sale price

Price

$12.00

Regular price

Unit price

per
1.25" hard-enamel pin in chrome, white, black, and red(s); Double-posted. Tribute to Hideaki Anno and Evangelion.
I'm a grown-ass man and these production Evas scare the shit out of me. They are so full of menace...so powerful...so strangely and crazily off-kilter from their already off-kilter forebears that, well, they give me a sense of vertigo.

These things haunted me forever on Tumblr, as I had no idea what they were or where they came from: I'm an old school person who's first intro to this show was the actual televised episodes...and for the longest time, I had not seen the movies, End, or any of the other adjacent releases. And so they were pure mystery and fright.

It was desperately satisfying to watch Asuka pipe through them, yet equally desperately terrifying to watch them spring back to life and eat her.

A metaphor for life, really.

I originally produced this pin as a part of my long-awaited Evangelion fankit project...there is a true-color version available there, but the gold/trans-black scheme is near and dear to my heart, so I produced these for individual release as a bonus. Bonus.