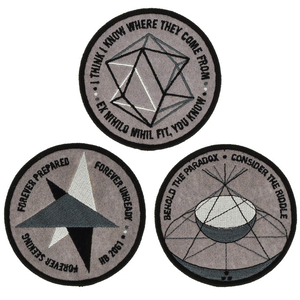 Ex Libris (4-Pack) —

Sale price

Price

$15.00

Regular price

Unit price

per
Four 3.5" merrowed-edge patches on gray felt.
Is it obvious that I like writers? That I read? That mine is a tradition that's been firmly steeped in sci-fi and/or fantasy fiction? Well...if it's not it should be.

I decided to pair my affinity to certain authors and what they've written with my penchant for the arcane and dumb (read: phony geometric scribbling) and behold...here is the Ex Libris pack.

This first volley (who knows if there will be a second) features the likes of Stephen King, HP Lovecraft, and Frank Herbert. I love them all and all are hugely important to me so having these patches on my jacket (in blackout form no big deal) is fun and exciting to me.

Note that in this special combo offering, you'll also get a ThereforeNul logo patch which has not been made available until now.

Go read a book.