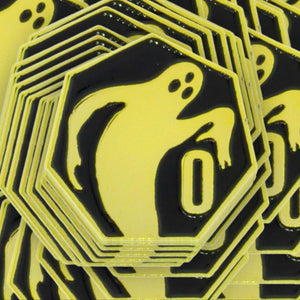 Ghosture [Black] —

Sale price

Price

$8.00

Regular price

Unit price

per
1" hard-enamel pin in gold and black. #arcanesigil
By now, I've released this wonderful little flip of a wonderful little piece of WW2 propaganda as a patch in two different colorways...so I figured it was time for a pin.

Never one to aschew self-serving symbolism, you'll note that this menacing and shadowy spectre boasts not one, not two, but THREE eyes and therefore (lol) presents the Therefore to the presentation of—you guessed it—Nul.

Add to that a subconsciously super frustrating asymmetrical box-thing and we got ourselves a pin, folks. Presented here in my signature Soviet scheme but also available in a few of my other trusty pin palette colorways: Soviet, Chrome, and Cosmic.