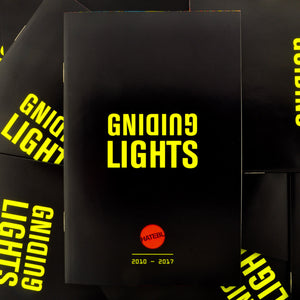 Guiding Lights —

Sale price

Price

$8.00

Regular price

Unit price

per
44 page zine. Full-color.
5.5" x 8.5". Edition of 48.
Milestone alert.

I've been wanting to do something like this for a while, and, for whatever reason, I now have.

Anyone who's been following this project for any amount of time will probably recognize this idea that I generate, well, ideas. These ideas typically and often manifest in the form of small epithets and idioms...little couplets and/or 'sayings' that could easily be drawn from other sources or (just as easily) be something I've said for the first time in a way that makes it sounds like ancient wisdom from long ago.

It's...one of the things that I do. And, regardless of how that plans externally, I've started to use these little nuggets as wayfinding devices for living my life. Guiding Lights, as it were.

These are they, to date. Of course, publishing something like this and saying it's definitive is a sure-fire way of thinking of items that got left out, like, immediately, but I'm proud of this collection.

You could theoretically get this and read this and be fairly prepared for any of my bullshit. Which is both comforting and terrifying...from my point of view, at least.