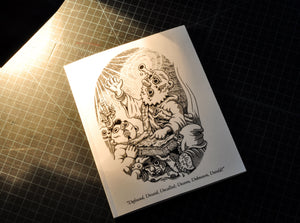 Unfound, Unsaid, Uncalled; Unseen, Unknown, Untold! —

Sale price

Price

$25.00

Regular price

Unit price

per
120 page trade book. 8" x 10". Open edition.

I'm a little terrified of this project. I mean: it's done now, and I'm exceedingly—and I do mean exceedingly—proud of it, but I'm also super scared that you won't care.

And I hate that. I'm not supposed to care if you care. I like it that/when/if you do, but that's not supposed to be a property—potential or otherwise—that affects what I do or don't do.

And so I'm scared.

For reasons as explained within these pages and otherwise, I wanted to compile all of the writing I've done in the past few years—most of it focused around this Hateball/ThereforeNul project but not all of it—and contain it within a single volume...just because there might be someone (sometwo?) out there who understands that the thing that I do is this part. That this writing stuff is the hook (while all the other stuff is just bait).

And that's just what I've done. You'll find all permanent/canonical Hateball writings within—COPIOUSLY footnoted, I might add—along with several enriching and illuminating inspirational quotes, anicllary works, and two never-before-published interviews that are long but quite, um, elucidating.

I really hope you notice this item. I can't believe I feel that way, and I can't believe I'm writing it down like this. And so it goes.

Incredibly large thankyous to Matt Fisher, who did the cover artwork for me. <3 br="">
NOTE: The first 20 copies of this book

will come 

came with a complementary tome.