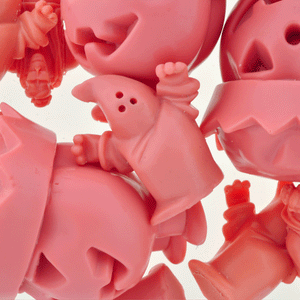 Keshi Pack [Pink] —

Sale price

Price

$30.00

Regular price

Unit price

per
Three rubber treasure-box toys cast in classic keshi-pink.
Assorted sizes 1.5"-3.5"
For the first time since the birth of the Treasure Box, all three Hateball keshi figures are available at once and in the same color.

Keshi pink is a big deal; it's not quite flesh and it's not quite pink. For children of the 80s and early 90s, this color will hearken (harken?) to MUSCLE figures, as well it should.

Keshi Zinewolf has been released in this color once before as a part of the MUSCLE Zinewolf release and frankly, I can't decide if this small guy is a part of the Treasure Box offering or not. I'll decide some other time I guess.

Couldn't be happier with how this release looks and feels, and hoping to do more group releases like this one in the future.