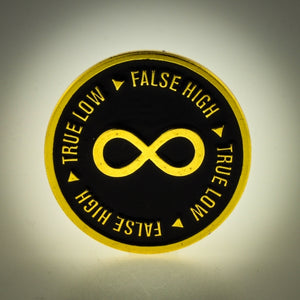 Life —

Sale price

Price

$6.00

Regular price

Unit price

per
1" hard-enamel pin in gold w/ black.
Pins are a lot like patches in that they always fit. They have the additional benefit of not needing to be sewn on to garments, and presumably, you can put them on hats and other non-blouse apparel.

So I made some more pins.

My pin-making career spans all the way back to 2011 when The Sign of Zeroth first debuted as a Comicon-specific giveaway that Aaron and I had fun with. That was fun. It was also really incredibly strange that we didn't even think twice about throwing handfuls of $5 bills into crowds of unknowing and uncaring people. Maybe not that strange.

This pin was something I just goofed around with initially. I listen to a lot of drum n bass music which is pretty great in its own right, but especially good when you find a mixtape that has a particularly enlightened MC. Typically when this happens, they (the MC) will do all sorts of verbal bravado tricks to keep up with the music and that often evolves into a sort of razor-thin evaluation of the condition of life.

In other words, things get incredibly upliftingly vague and superficial or incredibly dark and real and grimy in these poetic discourses.

In a mix by DJ Lenzman and MC Dan Stezo (The Dope Tape, 2016) Stezo talks about false highs and true lows and it resonated with me while I was on a run one night. I came home and doodled this up.