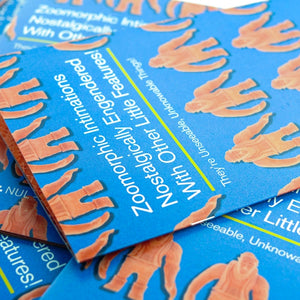 Z.I.N.E.W.O.L.F. —

Sale price

Price

$5.00

Regular price

Unit price

per
20 page zine. Full color. 5.5" x 8.5". Edition of 24.
I've always been a huge MUSCLE fan. This shouldn't be news to anybody who's spent any time on this site (but if it is, I've done other MUSCLE-related things). It was a no-brainer for me to want to do flesh/keshi-colored Zinewolf toys, and in keeping with the tradition of co-releasing zines with each new version, this little doozy came into being.

Chad—the guy who so amazingly visualized the initial turnarounds for Zinewolf based on my blah blah blah—said that he hasn't seen trails like these since that one time he went to see Tom Petty on hallucinogens. Taking that as a compliment.