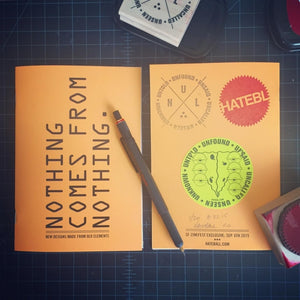 Nothing Comes From Nothing —

Sale price

Price

$5.00

Regular price

Unit price

per
20 page zine. B&W. 4.5" x 6.5". Edition of 20.
So a few things happened to bring this zine about. I'm not sure what or which or whichever order they happened in, but I'm smiling as I write this because it's kind of sounding like a 'For six months, I couldn't sleep...'-Fight Club type thing. The similarities end there unfortunately.

I stopped eating food for 4 months in 2015. It was all planned and heavily monitored and above board and everything...but the takeaway was that I lost 80 pounds. The key feature of an event like this for someone like me is that I had to buy all new clothes. Which is problematic for a guy who makes weird esoteric designs all the time...or is it?

Long story short (long story shirt, lol): I had cause to make myself some new t-shirts. I also had cause to get a new vest and start that whole process of customization, but this is about the shirts. I needed/wanted to make some new designs.

At the same time, I had a friend—Gnou—tell me that while he liked the zine output that had led up to this point, he was feeling thirsty for some setting in which I JUST designed. No photos....no grandiose vision or concept...just fuck around, man.

Add to that, I had a week to kill between waiting for all of my print orders (Unstolen, Misfits, Dawn of Outsiderism) to come back from the printers' in order to prep for SF Zinefest 2015...and I needed something to keep me busy.

So I made a zine. And called it a Zinefest exclusive. And have some leftover.

I made several of the designs that appear here into back patches and t-shirts. Had a blast...one of my favorite things I've made in a while.