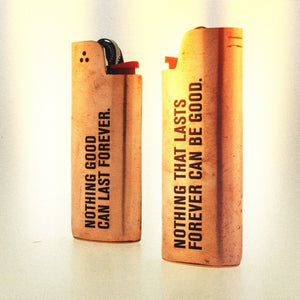 Nothing/Forever
Mini Bic Case (Copper) —

Sale price

Price

$35.00

Regular price

Unit price

per
Hand-made copper lighter sheath.
Laser-etched/burned at the SLCO workshop.
Quickly: sleeves are 100% copper, handmade in the US. They are marked on both sides, as well as on the bottom.

"Nothing Good can last Forever."
"Nothing that lasts Forever can be Good."

******  ******  ******

Since about 2005, I've made Halloween-themed flyers for a party that my family throws every-other year. That's special only because my stepdad's birthday is on Halloween, and my proficiency at Photoshop combined with my camp-meets-existential taste for the macabre can make for fun little visuals of Frankenstein or the Wolfman grinning through Kanye shades. Everybody laughs and it's fun.

This little every-other-year task also affords me the opportunity to plumb the depths and write overly-grotesque—maybe gothic is the perfect word here—and fatalistic themes as pertain to both Halloween and the inevitable mortality of someone I love.

One year—this was 2007—I stumbled upon a seemingly axiomatic syllogism...one that in all of my searching, I haven't been able to find anywhere else out in the world except for on these very All Hallows flyers.

Even though I was writing about pretend vampires at the time, maybe it's true. Maybe it's so uncomfortable and says so much about our country, our species, our world, and ourselves that nobody really wants to confront it.

Maybe.

Anyway, I was going through a particularly hard time at the beginning of this year, and I had re-engaged with this line that I wrote as a function of the Compendium project. For some strange reason, I also became obsessed with making lighter sleeves at the same exact time. Once I was finally able to find an incredible source for a high-quality, hand-made (in the US), and solid copper version of the actual good, it was a no-brainer to take these simple ingredients to Joe at SLCO and ask him to help me make magic with them.

Which he did. And so now if you want to have a lighter, and you want to remind yourself and others the truth about vampire stepdads, you may do so for a premium.

Please enjoy.