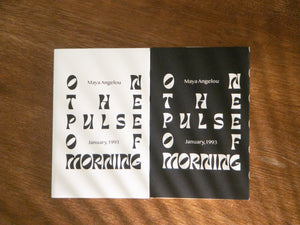 On the Pulse of Morning [Limited Edition] —

Sale price

Price

$25.00

Regular price

Unit price

per
194 pages; Linen Wrap Hardbound.In 1993, Maya Angelou delivered this poem at the inauguration of President Bill Clinton.
It is widely held in literary circles that the text of this poem, while great, does not have the same impact as Ms. Angelou's performance.
Inspired by many things, but mostly just in awe of her, I wanted to create a tome that I could hold in my hand through all the noise of this life and still feel the tingles that her words inevitably cause.
This, of course, was printed without permission, but with tremendous respect and love. The price reflects the printing cost to me.