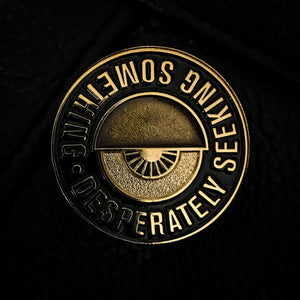 Seeker —

Sale price

Price

$8.00

Regular price

Unit price

per
1" hard-enamel pin in gold w/ black and trans. black.
A couple things to say here.

First: let it be known that I'm not the hugest, most avid fan of what we all think of today to be 'pin design'. There's a trend—and I'm not saying it's bad, it's just not my preference—to use the pin medium in a very (very) similar way to other, less physical styles of illustration.

That typically manifests itself as a black-plated metal being used to outline a drawing that leverages 2-6 different colors of enamel to create a cartoonish design or personage. Which is great. I love cartoons.

But! My soft spot for pins has more to do with leveraging them as a half-remembered military-ish kind of thing: one in which the metal actually looks like metal, and—as is the case for most of my designs—any text or distinguishing detail featues comes through as something metallic, with a single (max two) enamel color being dropped in to create some contrast. There are also the ones where I (inevitably!) have something to say. So it go.

Needless to say, the folks who make my pins don't really get it. It takes a couple of tries to really make my point that, yes, I want the beds to show on the eyeball part. And yes, I want to use transparent black on the eyelid. And yes, I want the beds for both the eye and eyelid to be sandblasted because, yes, that is important to me.

***

A constant reader will recognize my eye of disillusioned torpor, as I've used it in various places before. The legend surrounding it is, well, pretty close to home, actually. It kind of hurts...and of course, I bet I was trying to make it hurt when I wrote it.

The caption I used the first time I posted (a different color of) this pin to Instagram is still most fitting:

#tfw you'll know it when you see it.