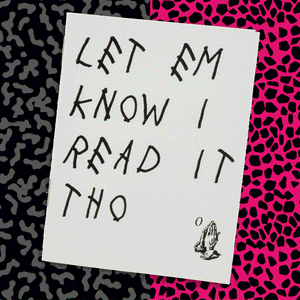 Six Pack —

Sale price

Price

$10.00

Regular price

Unit price

per
16 page, hand-drawn/assembled b/w minizine, 3.5" die-cut patch, and 9 full color minicards.
This has happened to you, right? You've been caught off-guard by an album or song that you know in your bones—within the culture of you—that you're not really into, but then you can't seem to escape it. It starts to haunt you and at first you hate it but after a while you start to like it and then eventually love it.

I'm not talking about a person, though we all know that's how some of the best relationships (with people) start, too.

Drake's 'mixtape' "If Youre Reading This Its Too Late" is one of those things for me, and the standout track—or at least, the first track that stood out to me and sucked me in—was 'Know Yourself', which, yes, is the one with the 'Runnin through the six with my woes' line.

First I loved it because I liked to imagine Drake in a tracksuit and a jesus chain literally running through the hole in a giant letter six along with some ghosts. Sheeted spectres.

But then I loved it for all the reasons that everybody else does...the meter, the wordplay, the production, the Drake...all of it.

And then other songs like 'Star-67' and 'No Tellin' got under my skin and damn. This mixtape is really a thing. This is a formidable force in my life. You didn't see it, but I just paused to go put it on. It's that kind of record.

We'll say that was 4 months ago. And now here I am: I've written two essays about my relationship with this music, made a patch that somehow absurdly crosses new-school fake-rap celebrity slang with old-school hyper-romanticized nostalgia, a little zine where I actually drew some stuff (it almost killed me), and a set of mini trading cards.

About Drake. All about Drake. And really, all about Drake and this album specifically.

I am a 37 year old man with a young son. Big-dollar people trust me to make decisions for them about their technology and general communication strategy every day. And in my spare time, I've decided to make arts and crafts about @champagnepapi.