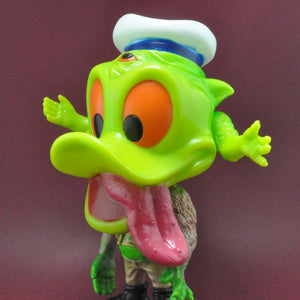 Duck Wolf [Slime Duck] —

Sale price

Price

$65.00

Regular price

Unit price

per
Kitbashed figure cast in slime green vinyl; Neon orange, black, and red/pink sprays; 6.5". Comes w/ deluxe zine, stickers, and 3/4" enamel pin. Extra arms + 3 bootleg-resin omake ghosts.
Ghostbusters was the very first movie I ever owned on VHS. It is, in my opinion, one of the finest movies ever committed to film. BUT! This release is an homage to the animated series and attached toy line that it inspired.

About a year in the making, this project sees Duck Wolf combining himself with my writing, photography, collecting and curating, and now resin casting skills at front and center.