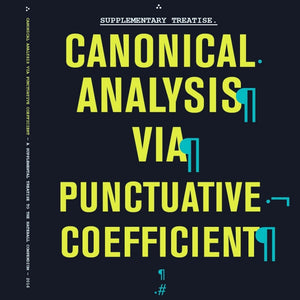 Supplementary Treatise: Canonical Analysis via Punctuative Coefficient —

Sale price

Price

$0.00

Regular price

Unit price

per
60 page trade book. 8" x 10". Promo Only.
EDIT: This book is only available along with the first 20 issues of the Hateball Compendium. I'm unsure if I'll ever print more, but sure that it'll never be sold standalone. -HB

Look. It's super weird what I've done here. I get that.

To quote/summarize/transcribe my internal discourse: "It's weird enough that you expect people to maybe sort of possibly read the things that you write, but don't you think it's borderline fatalist to publish a document that removes all of the words—literally, all of the words—and still expect them to have patience for that?"

I don't know. Like, really.

All I know is that I encounted this fantastic article by Adam J Calhoun at a fairly crucial point where I was vapor-locked on releasing a then-finished Hateball Compendium. That encounter spurred this project, which took a couple weeks (inordinately long for ANY project of mine) which allowed me to build up the courage to pull the trigger on both.

So there ya go. I hope you enjoy. I know it's weird and quasi-unintelligible but sometimes that's the fun of it. Sometimes.