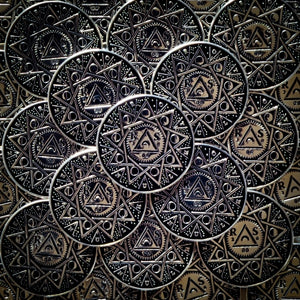 The Sign of Zeroth —

Sale price

Price

$0.00

Regular price

Unit price

per
1" lapel pin in shiny silver/black finish. Available for orders over $30. for a very limited time. Never for sale.
This design is incredibly special to me and in many ways, it signifies the beginning of something.

In some ways, too, it signifies the beginning of the end of some things, but that's more of a sad tale (not exactly SAD, but) that I'm choosing to focus less of my attention on.

The bottom line is that after 10 years of strong business, Rocket Society needed a logo, mostly because I wanted to make a pin. You can't gain weight and grow out of a pin. If you keep it you'll always have it.

I worked with Caleb at Hybrid/Super 7 to come up with a 'seal' that imbued a lot of things that were (and are) important to me at the time. Implied numerology. Moon worship. An intimidating and somewhat masonic-cum-space feel that would end up influencing oh so much of my output here in years to come.

The first run was produced in 2011 and given away for free at San Diego Comicon. The next run was even bigger and in more audacious colors and followed suit (this time with our founding year '2000' in the center position) at the 2012 Comicon.

I recently unearthed a very small cache of the main black/silver colorway of this second edition of pins, and know there is demand. So...if you're lucky, and you put your money where your mouth is, I'll give you one. But you can't buy it by itself.

Life's complicated.