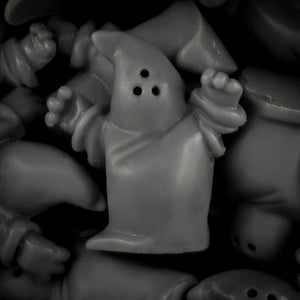 Therefore Ghost [Gray] —

Sale price

Price

$8.00

Regular price

Unit price

per
Rubber treasure-box toy cast in gray. 1.5"
Certainly, I don't need to rehash the origin of this distinguished fellow (take THAT, Marvel studios!)...if you're truly interested in how he came about, then I invite you to visit this page which is for the maiden voyage of Mr. Ghost.

Here, he is presented to you in a dreary but useful gray, and he is great in that he will make you think he's there to help you be sad, but then you realize that you're looking at a little rubber treasure with fat hands and a silly face and you'll be happy. Or you'll at least smile at yourself for looking at a little ghost with fat hands.

Ghosts, man. Ghosts.