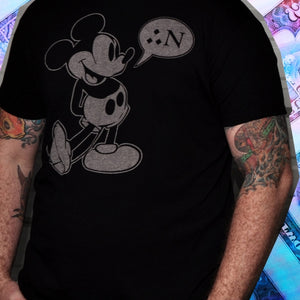 Therefore Mickey —

Sale price

Price

$10.00

Regular price

Unit price

per
Discharge printed on super-soft tri-blend blank.
Less difficult to explain than some others, really. Despite the Hateball penchant for weird and wily ideas and concepts, I have a huge proclivity towards Disneyland. I go there a lot.

The thing about Disney is that they don't make a ton of black t-shirts with Mickey Mouse on them, and what's more, if they do make them, they don't make them in XX or XXX. Which is the size that I've worn since I was 12.

So I made one myself. And while I was at it, I had The Mouse throw me a shoutout.