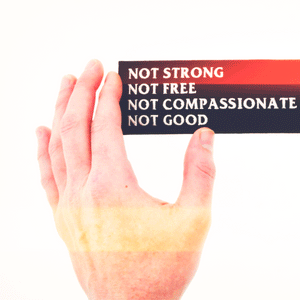 Thieves in the Night —

Sale price

Price

$12.00

Regular price

Unit price

per
10.5" merrowed patch on black canvas.
This is the largest, most expensive (to produce) patch I've created to date, and I worry about it...have worried about it since I sent the artwork off to the factory.

The words included are from a Black Star song called Thieves in the Night. In the song, Mos Def and Talib Kweli and going back and forth about the condition of the black man and, well, it resonates with me (a white man).

Further research into the song reveals that the concepts incldued here are actually lifted from a book called 'The Bluest Eye' by Toni Morrisson...herself an author that I've read and been haunted by for about 20 years.

I feel this way about the human condition. That is not meant to take away their feeling this way about the black condition.

I've realized that I tend to subconsciously (until now) gravitate toward stuff like this in this patch series...previous entries are from Saul Williams and Zach de la Rocha (with another from Ted Hughes, who is a different kind of outsider) and I wonder what that says about me.