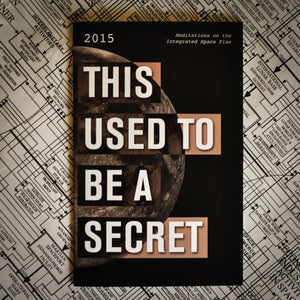 This Used to be a Secret —

Sale price

Price

$5.00

Regular price

Unit price

per
20 page zine. Full Color. 5.5" x 8.5". Edition of 24.
As my product-offering and output spirals upwards and inwards towards an increasingly auobiographical bent, one can all but predict a piece of personalia like this to surface at this very moment.

That mouthful said, this is a pretty interesting POV piece on my experience with the Integrated Space Plan, how I got it, what I think about it, and of course, excerpts from the document itself.

If you are not familiar with the above-mentioned document, and you find yourself as having at least *some* affinity with the things that I typically generate for this site, then you are in for a real treat....it's amazing.

Purchase and keepsake this small-run document which combines your two favorite pastimes: arcane hubris from a beloved internet persona, and high-falooting space documentary in the form of aspirational intent.