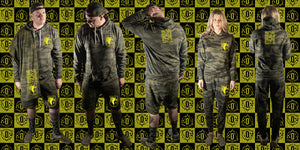 Unofficial Ghost: Pullover Hoodie —

Sale price

Price

$25.00

Regular price

Unit price

per
Lightweight Hoodie in Woodland Camo. Hand-screened in HB Volt. Part of the Unofficial Ghost Unit Shelter Kit
Strange times call for strange products, don't they? This item—however poorly timed against the coming heat of summer—represents how I've spent my spring: inside, cozy, and working without actual pants on, while the world panics and frets.
It also represents a milestone for me: I've been designing (and enjoying) screenprinted garments for years, but this is the first time my actual hands are on the actual squeegee. I'm...processing my feelings surrounding this development, but overall, it feels good to add another skill to the list; take personal pride in another element of the production process.
Thematically, I think this bundle of products speaks for itself: we're all just Unofficial Ghosts, waiting to be processed into our more official capacity. Take that, a flair for a flip of the Shadow Army's famous logo, and an homage to (of all things) US Military cataloging and specifications systems (weirdly zoological iyam), and boom: A Shelter Kit for the ages.
I may be thinking about it more than you would ever, but for real: even though these are 'sweats' being put on offer to you on the cusp of summer, they are really, really light and airy and breathable and comfortable. Like, even the blanked is a real hoot. Trust yr old pal.