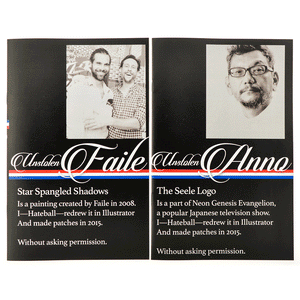 Unstolen —

Sale price

Price

$10.00

Regular price

Unit price

per
8 page zine. Full-Color.
5.5" x 8.5". Includes 2 [bootleg] patches.
If I were an emoji, and I were thinking about this product, I'd be the half-frowning, eyes-downcast one. This is apparently called pensive face:




I like to call it Namaste face or something. Either way, it expresses my feelings about this product.

There was no original plan to make this a set. I just wanted a Seele patch, and I wanted a Man in the High Castle patch. For me. But you can't just make one of something these days. And so what do you do with the other 49?

My decision to sell them did not come easy. These are Straight. Up. bootlegs. Plus, in the case of High Castle, I'm ripping off Faile without it even being about them really...I care mostly about the piece because of its relevance to a Philip K Dick story that I'm in love with.

So naturally, after toiling, I decided to just explain myself. In a zine. And I started to realize all of the crazy parallels between these two pieces...I loved them for the same/similar reasons.

So don't judge me. At least it's not Bart Simpson. This shit is arcane as fuck and I'm pensive about it.