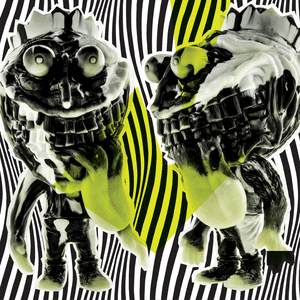 Zinewolf
[Dazzle] —

Sale price

Price

$75.00

Regular price

Unit price

per
Vinyl figure cast in black/white/glow marbled vinyl; 6.5".
Comes w/ 24 page zine and 3/4" enamel pin.
Anyone who's been following along here for even just a small amount of time should know that this release is a dream for me. These toys are artisanally pulled (I'm saying that unironically) by artfully swirling three colors together to make for a few very important, very special effects:

Each is unique. They all have differences and different spreads of the colors...the zine documents them all for a full picture of the release,
I get to explore a years-long fascination with Dazzle Camouflage, a thing—both the style and my fascination with it—that's explored to medium length in that very same zine,
All of this is done with no paint, which—as a superfan of blank toys—is special to me since these guys have so much character, and finally
I get to decide to do more camouflage styles as releases later if this one feels right once all is said and done. Can you say Alley Viper? CAN YOU?!

Anyway, these guys are special and few, and if I was just a little bit more out of touch than I am, I'd just keep them all for my own collection. But lets see if any of you are interested first.