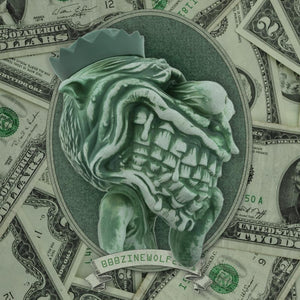 Zinewolf
[Dead Presidents] —

Sale price

Price

$65.00

Regular price

Unit price

per
Vinyl figure cast in white vinyl w/ multi rub; 6.5". Comes w/ 24 page zine and 3/4" enamel pin.
With the help of the inimitable DSKI ONE on the paint, and @fiends from #SLCO on machine duties, I was able to realize a vision that I'd been holding onto for a long time.

I've had a fascination with the visual aspects of money/coinage for a long time; a fascination that is not completely disconnected from my Arcane Sigil project.

In addition to the fantastic, money-portrait colorway of Zinewolf, I also photographed several coins from my collection, as well as some coins that I 'made' as a part of this project. Depending on how I feel, some of those Hateball coins may get randomly dropped into boxes. We'll see.