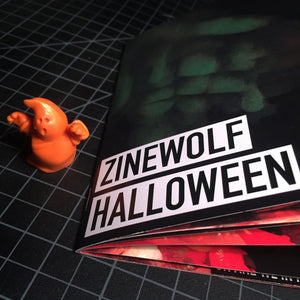 Zinewolf Halloween —

Sale price

Price

$0.00

Regular price

Unit price

per
20 page zine. Full color. Edition of 25.


Available only as part of the 'Halloween' Zinewolf toy release. This marked the second official release of Zinewolf, and it's really where I had a formative (and in hindsight, totally obvious) epiphany: I want to create and release a zine with every release of Zinewolf. I had already created one with the initial release and so yay: it all made sense.

This decision does a few things...the biggest being that it frees me up to do whatever I want in the accompanying zines...I've rationalized not selling them (but rather giving them away as omakes) as license to source imagery from wherever (mostly Tumblr) and do what I want with it.

A morally and emotionally gray position, of course.

The narrative of this zine is built by taking Tumblr-sourced photos of statues and mouths, overlaying them with textures made of uncut/unassembled zinewolf parts, and laying over a poem-essay influenced by two favorite passages from HP Lovecraft and H Rider Haggard.