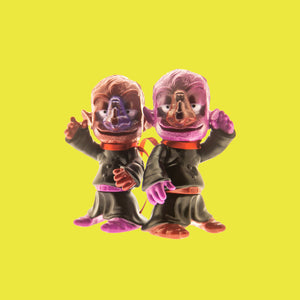 ZununuS 001: The Wanderer —

Sale price

Price

$50.00

Regular price

Unit price

per
Stands 6"; Soft Vinyl; Made in JapanZunuuS is an ageless and (almost) nameless entity that has wandered the planes of existence for all time. His nature is slowly being revealed but for now, all we know is that he exists and, evidently, for now, we do too.
Viny figure was produced in Japan and assembled/painted by moi. I used a mixed parts strategy to keep colors looking good and only using paint where necessary...old school style. Each figure is also laser engraved on the back to commemorate the release.
Figures are packaged with a 20-page hand-assembled zine for a header, and include a set of ZununuS drawing templates, and a Therefore, Nul challenge coin.