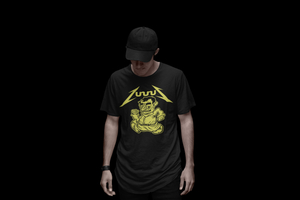 ZununuS 01 T-Shirt [Preorder] —

Sale price

Price

$25.00

Regular price

Unit price

per
100% Cotton T-Shirt in Black. Hand-screened in HB Volt.
Took some time off printing...almost a whole year. The equipment has been here, staring at me that whole time. I want to try something this times that leans out of my hard-won Capsule framework...something design to more or less stand alone.
I also wanted to attempt a printing medium that's way more difficult (for me) to deal with: water based and discharge inks.
So this is a very low-stakes, but high-key opportunity to continue my printing journey after having a nice window of reflection since last year's holiday push. I feel good about it.
Not to mention: having some incredible artwork provided by Lynn Tobin: I asked for Crumb-inspired renditions of my wandering one and boy-oh-boy did he delivery. I'm in love.
This is a preorder; my expectation is to print and deliver these by new Year's, if not 1/15/23 at the latest. Orders will come with stickers, pins, and whatever else I can find to throw in.